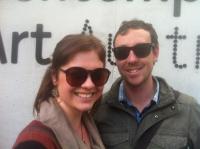 Since graduating from my Bachelor of Behavioural Science at the end of 2014, a lot has changed. My husband Aaron and I moved to Sydney the January after, primarily for the purpose of him undertaking a theological degree at SMBC.
I managed to secure a full-time job (my first actually - was kind of hoping I might get away with always being a part-timer!), working as the Event Coordinator for Geneva Push (the Australian Church Planting Network). This has been a tough year full of ups and downs in the role – feeling as if I've often found my feet only to lose them again! But I am really pleased to be finishing the year feeling very positive about next year, having learnt a lot and motivated to give it my all.
So by the end of January 2015, we had packed up our very first rental property together, road-tripped from Hobart to Sydney, moved our car load of possessions into an apartment at the college campus, I had started full time work and Aaron had started learning ancient Greek…We are now one year down, and two to go up here in Sydney. We have had a wonderful time so far, and love living in Sydney, but are so looking forward to coming home for the holidays, and our desire to return to Tasmania after Aaron's graduation to work in ministry has not wavered.
I actually plan to complete a Certificate 4 in Pastoral Care with Chaplaincy Australia in 2017 and very much hope to find work as a school chaplain in Hobart the year after. It's taken me a while to realise this might be a fantastic way for me to use the skills and knowledge I learnt in my degree for gospel work in Hobart. If you are a current student, or graduate still thinking through what to do next, I encourage you to ask yourself how you can use what you've achieved at uni to further the Kingdom.
Rachel Johnstone graduated from UTAS with a Bachelor of Behavioural Science in 2014 and is currently working as Event Coordinator for Geneva Push.